Nearing the end of the first month of my self-challenge. I've been a little frustrated because the TBR shelf is not getting smaller. I've had a lot of books come off my
paperbackswap.com
wishlist the last few weeks, which has made it a little difficult to maintain some momentum. Also, I've been a little busy doing stuff like, you know, buy a house (!!) Anyways, back to the selections for this week.
The Book of Joe
is by an author that I really enjoyed reading last year. As in I gobbled up the book during the first half of a flight to China. I'm looking forward to seeing if this holds up to my expectations.
Embassytown
was a surprise find. I won the copy on
goodreads.com
. I feel kind of obligated to read and review it ASAP.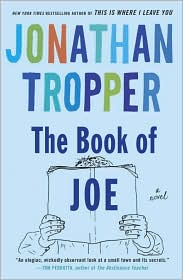 The Book of Joe by Jonathan Tropper
ISBN: 0385338104
Paperback
Source: paperbackswap.com
Right after high school, Joe Goffman left sleepy Bush Falls, Conneticut and never looked back. Then he wrote a novel savaging everything in town, a novel that became a national bestseller and a huge hit movie. Fifteen years later, Joe is struggling to avoid the sophomore slump with his next novel when he gets a call: his father's had a stroke, so it's back to Bush Falls for the town's most famous pariah. His brother avoids him, his former classmates beat him up, and the members of the book club just hurl their copies of Bush Falls at his house. But with the help of some old friends, Joe discovers that coming home isn't all bad—and that maybe the best things in life are second chances.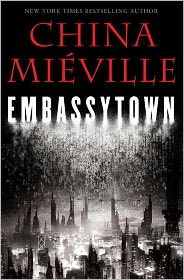 Embassytown by China Mieville
ISBN: 9780345524492
Hardcover
Source:
Goodreads.com
giveaway
Avice Benner Cho, a human colonist, has returned to Embassytown after years of deep-space adventure. She cannot speak the Ariekei tongue, but she is an indelible part of it, having long ago been made a figure of speech, a living simile in their language. When distant political machinations deliver a new ambassador to Arieka, the fragile equilibrium between humans and aliens is violently upset. Catastrophe looms, and Avice is torn between competing loyalties—to a husband she no longer loves, to a system she no longer trusts, and to her place in a language she cannot speak yet speaks through her.