Week One recap: Hit a little glitch when I
lost
a book. I'm still a little in awe that this happened. I more than made up for it though and spent much of my PTO either sleeping, eating or reading. It was quite nice!
This week is Sara Gruen Week. Or the Week of Sara Gruen, if you prefer. I have two of her books on the TBR list and I think I'm up for reading both.
Flying Changes
is the sequel to
Riding Lessons
, which I read quite a while ago and planned to read the second book shortly after... [clears throat] I hope I remember enough to keep up right from the start.
Water For Elephants
is a re-read, of sorts. I listened to the
audiobook
and loved, loved, loved it. Book Club is reading it this month and I decided I wanted to do a refresher and read the book this time. I hope I enjoy reading it as much as I enjoyed listening to it.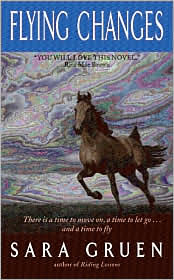 Flying Changes by Sara Gruen
ISBN: 9780060790950
Paperback
Source: paperbackswap.com
Twenty years after her competitive riding career died, Annemarie Zimmer worries that her relationship with the man she loves is off course, and fears that daughter Eva's own dreams of Olympic glory will carry her far from home... and into harm's way. — When the teenage Eva is invited to audition for a world-class trainer, Annemarie realizes that she must give Eva a chance to soar. But when Eva falls in love with a spectacular blue roan Nokota who hasn't let anyone ride him since his arrival at the barn, Annemarie's doubts come crashing back.
It is a time of change at Maple Brook, when fears must be saddled and broken. And one remarkable family must learn how to deal with Flying Changes.
Water for Elephants by Sara Gruen
ISBN: 9781616200817
NOOKbook
Source: Barnes & Noble
As a young man, Jacob Jankowski was tossed by fate onto a rickety train that was home to the Benzini Brothers Most Spectacular Show on Earth. It was the early part of the great Depression, and for Jacob, now ninety, the circus world he remembers was both his salvation and a living hell. A veterinary student just shy of a degree, he was put in charge of caring for the circus menagerie. It was there that he met Marlena, the beautiful equestrian star married to August, the charismatic but twisted animal trainer. And he met Rosie, an untrainable elephant who was the great gray hope for this third-rate traveling show. The bond that grew among this unlikely trio was one of love and trust, and, ultimately, it was their only hope for survival.