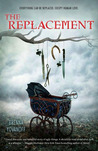 The Replacement
by
Brenna Yovanoff
My rating:
4 of 5 stars
I put off reading this book for awhile - I was interested in it enough to want to read it, but at the same time repulsed by the idea of the book. While I was looking for something for The Duder to read, I picked up this book and committed myself to reading it. I'm glad I did and I hope that TD will read it too.
It's a strong character driven story, we're given a clear view of the protagonist and the antagonist is hearsay and acts until almost the end of the story when she is finally a character. I loved that aspect - we knew who we were against, but the struggle was to get our hands on her! loved it.
I also enjoyed not getting fed an entire history of being for the strange creatures that live under Gentry, or even a definition of what they really are. It let my imagination fill in the details (I pictured them very Tim Burton-ish) and the story wasn't held to any rules - as often happens with creatures (such as vampires, werewolves, fairies, etc).
There is some strong language (about 10 instances of the "F" word), sexual references, and teenage alcohol use, however I feel that this is not out of context with the story line (read: situational and not gratuitous) or real teenagers.
Looking forward to reading more from this author.
Summary
:
Mackie Doyle is not one of us. Though he lives in the small town of Gentry, he comes from a world of tunnels and black murky water, a world of living dead girls ruled by a little tattooed princess. He is a Replacement, left in the crib of a human baby sixteen years ago. Now, because of fatal allergies to iron, blood, and consecrated ground, Mackie is fighting to survive in the human world.

Mackie would give anything to live among us, to practice on his bass or spend time with his crush, Tate. But when Tate's baby sister goes missing, Mackie is drawn irrevocably into the underworld of Gentry, known as Mayhem. He must face the dark creatures of the Slag Heaps and find his rightful place, in our world, or theirs.
Recommended Reading
:
Clockwork Angel
by Cassandra Clare
Torment
by Lauren Kate
Matched
by Ally Condie
Crescendo (Hush, Hush Saga #2)
by Becca Fitzpatrick
Beautiful Darkness
by Kami Garcia
Radiance
by Alyson Noël